Phily Comic Con
First of all I took these with my Motorola Droid an dsome pictures came out good some were alil blurry but you get the idea.
This was my first time a Philly Comic Con. And it had its Pros and Conss.
Cons
Don't get me wrongas far as I could tell the only thing I really didn't like was it had alot of comics LOLNow as stupid as that sounded hear me out. I thought they would have a mixture of Comics/Anime/Video Games which they didn't. That doesn't really hurt the con I just thought maybe they would have more things. The next thing as the prices.... A couple weeks back I brought the Wal Mart Exclusive movie 6 inch Figures from well Warlmart lol and they was like 12/13 bucks. I am so glad I did. I found them at Comic Con for 30 bucks a piece. I was like ok I know they are exclusive to walmart but they are far from being rare why the heck are they 30 a piece. Regular ironman toys that I see at target/walmart were equally over priced. I can see why because its Comic Con but come on, I have went to my fair share of Anime Conventions and the prices for things are not that expensive. The Iron Man figure for example would have been 18 instead of 30 thats a rip off >_<. /rant I think thats all the Cons of the Con <- see what I did there?
Pro's
Cosplay is the first thing that comes to mind. I was invited to go to Comic Con with a couple friends of mines, and they looked cool (pics at the end) Everyone else looked cool too it as a nice turn out. On a quick Side note Philly seems like it has 0 Anime/Comic interests Comic Con and even Zenkaikon Changed my mind about that. The Costume went to extreme as to a Mother and Father came as April and Casey Jones from Teenage Mutant Ninja Turtles.... and has there like 1-2 year olds dress up as 3 of the turtles. The amount of merchandise they had was cool too just way to expsensive for my taste. But it was nice to see how much stuff they had seeing how when I went to the Gaming Expo it didn't look as full. With Otakon right around the corner I didn't want to spread my money thin, but then again I wasn't really looking to buy anything more than 25 bucks. I did find a Big Daddy (the bouncer) for 25 but I figured I would wait till Otakon. I brought some buttons for my Messenger Bag and thats about it.
Pics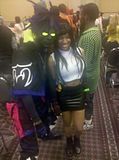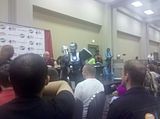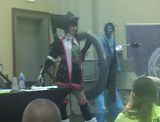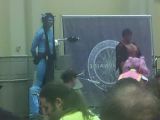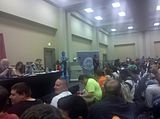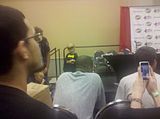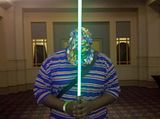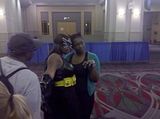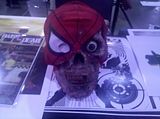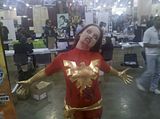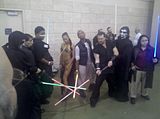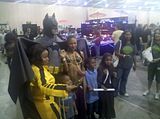 In the End..
Comic con was great on alot of fronts. I mainly went there to have a good time with my friends and get a picture with Patrick Stewart...which I didn't get for the lack of 100 dollars to do so >_>. I got some nice buttons I had a great time and it was worth the 35 bucks I paid to get in. Will I go next year? Most likely Will i wear a Costume? Highly likely lol for those who went with me they will know why :-)
O and I went to the Cosplay contest thingy the first time ever @ a Con and that was super fun Anti Sora should have won!