Ok so sorry it took so long to make this. I had no idea that I never made a review although
I did make a video review I just forgot sorry lol
So first of all it was NYCC (New York comic Con) X NYAF (New York Anime Festival)
They merged the two this year and hence you got what I went to. Good things were lots
and lots of things to do. Bad things there was lots and lots of things to do lol but didn't
have that much time I went Sat and Sun, I got to play alot of video games and missed out on some
events because I either didnt know they was there or I just didn't have time.
Example of lines: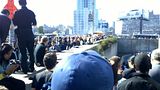 Here are some pics of the games.
Marvel Vs Capcom 3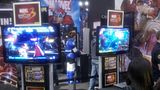 Micheal Jackson Experience on Wii
I got up on stage for MJ (can't find me on youtube yet :-() But other than that great game I'm gonna buy it. MvC3 lets just say I was 3-0 love it I alread pre-ordered mines. Great game!!!
Cosplay:
Was pretty good tons of people not alot of people cosplayed I can kinda feel like the people who did was purely there for anime though: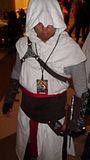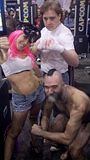 Gundam Contest that I didn't know was there >_> and when I did and planned to go back they was gone lol but the bandai booth there was pretty good and I have some other gundam related stuff too: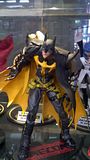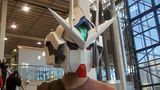 Overall it was pretty awesome. I got to see the NYC sights again ( I love NYC) and went to some old stores like Image Anime and Midtown Comics. Great time I think right now my Staple for Anime conventions will be (in order of apperance) Katsucon, Otakon, NYAF. So far they are the best for content and things happening all around really. Thanks for reading leave comments below :-)
Oh yea I did see the Gundam 00 Movie it was fantastic ill make a video of my impressions later this weekend hopefully.
Can't find a pic of the stuff I brought but heres a list:
Android Guy lol
Tralfagar Law
2x Megaman Figures
Buttons
I also made a video on youtube with the stuff but I actually forgot to add that I got a limited eidtion Toki doki Street Fighter Fitted. I will make a video of it soon :-)