Ok so its out the bag my loving wife brought me the display case (check the youtube link to the right) and she got me ::drum roll::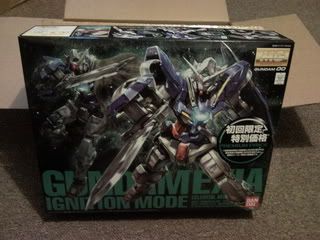 w00t
Ignition mode looks super sexy I'm going to try and knock all my kits out soon as I hit 70k on xbox live if you can see my gamercard to the right I don't have that much to go. I know the points mean nothing but its kinda fun and a couple of my friends and family grip points so its a inside thing I suppose.
I'm gonna try and knock out 0 Gundam this weekend and buy some top coat to spray on these guys and track down some Tamiya Chrome Silver spray paint as I am not using the testors paint anymore. Maybe if I sprayed it with top coat it will be better... well we will see. So hopefully this weekend I can knock at least 0 Gundam out.
I been watching the polls and man you guys really wnat me to get Force Impulse huh? Well that will be the next kit since you guys are voting on it. Zenkaikon is coming up in Nov and I might be going to NYC Anime Expo and maybe I can find a good deal there who knows.
Don't forget about the chat box on the right you can leave me messages and I have my Omnia so im always connected to receive emails. Till next time ill see you later!