Well I kinda took a break off of everything. I have been playing my xbox just got to disc two of MagnaCarta 2 and man it so sweet. No Homo but I love Hyung-tae Kim, his artwork is so hot even from when he did the Art of the Wired. I gotta get around to buying some of his work to put in my basement and hopefully i can get some figures. Here is a couple pics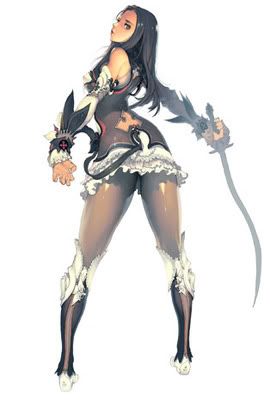 I really like the style of it still being anime but kinda still looking real. Anywho the game is so sweet and it keeps me on the game with the art style so much. Like i knew nothing of the game but when I heard Kim was on it I was like yo im gonna try to get as much GS in that game as I can. I love the game though im almost sad that when I beat it its gonna go into the pile of lost game memories lol but anywho pick it up its a nice action rpg.
Back onto the update I haven't done any kits since I went to the competition at hobby town usa. They haven't contacted me or anything either lol Hopefully I will be there tomm to order some paint. For some strange reason the prices of paint (sprays) went up so I been devising a plan to get some stuff in bulk. WIP stays the same but might grow a bit, which leads me to my next update,
ZENKAIKON 2009 I am going I will be getting my tickets next week and the following SAT ill be upping videos etc. So keep checking the blog and the vblog @ youtube for that. Other than that I think thats about it. Ill blog later with a want list for Zenkaikon each event I go to seems like I get more ways to find what I want with out taking away from the overall event. I might make a Convention Guide lol just for fun anywho thanks for reading stay tuned!